January was my first full month off work again, having wrapped up my temporary contract at Microsoft as a production designer. I've spent the month reflecting on what I'd like to do moving forward, and how best to use the time waiting for my green card/work authorization so I can work for myself full time.
I really enjoyed working part time. Being able to go to an office and see co-workers and have people depend on me, but also having plenty of time to focus on my art, was the perrrrfect work/life balance. While enjoying this arrangement immensely, I was and am also very aware of the privilege of it even being an option for me. And furthermore, the privilege of being able to take time away from work while I await my green card, and focus my time and energy on improving and elevating my illustration skills. I'm so lucky to have a supportive partner who can help bridge the gap in our household income and make this flexibility even be an option. I really don't want this year to go by and have nothing to show for it, but I equally don't want to spend the year working a job that's not really furthering my career in the direction I want it to go, and being too tired to work on personal art projects and goals because of it.
So that's been pretty top of mind this month as I settle in to my new normal. Beyond that sort of ever-hovering thought, I've been busy with other things! I took a 2-week sewing class at the beginning of the month and learned how to make a tote bag. The class was at a local fabric and sewing shop called Stitches, taught by the wonderful Jaynie. I have been so lucky to have teachers lately who I connect with and enjoy learning from in such a friendly environment. I definitely want to emulate these relationships with the people I teach too. This month, I taught my second block printing class, this time to a group of six! I feel each time I do it I am thinking of ways to better demonstrate, explain, and set up the material. Looking forward to teaching my next class in February.
I picked up a beautiful handmade leather bag from my now good friend Amz, who runs her own business called Mountain Fox Goods. I spent the last few months of 2019 helping her in her studio with production of her leather earrings, while she worked away on the bags, wallets, and other beautiful goods she offers. She generously gifted me this bag partially as a thank you for working with her, but also part of an art trade! I'm going to make her a ceramic mug at my pottery studio.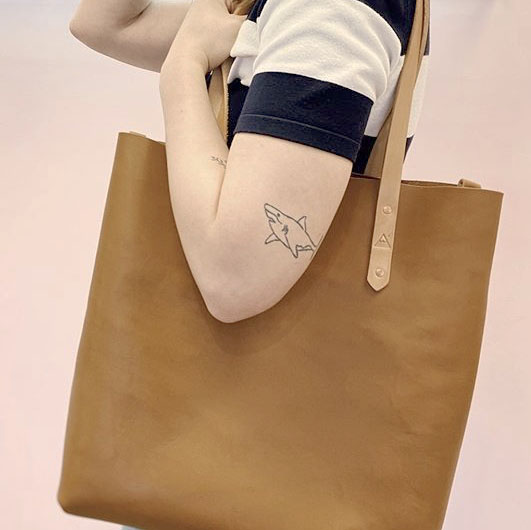 In other collaboration news, I've started a new project with my good friend Alex. Alex is a talented designer who has a lot more knowledge of animation and motion graphics than me, and since I want to learn more about that, and she wants to learn more about illustration, we decided to create something together. We are still in the beginning brainstorming stages of this, but it's been so fun to have regular meet ups and work sessions together in January. I'm sure I'll have more to share soon, but as a little hint that's a surprise to nobody, it will involve dogs!
And lastly I have also been working on a collab with my good friend from college, Cody. This one has been a bit slower since Cody is still back in Toronto, and we started this idea out entirely through snail mail letters back and forth. Cody is a writer, and we decided to do a little partnership where I will create an illustration to accompany a short story he's written. Again, don't want to share too much here before it's moved along more, but maybe I'll write a separate post about these collaborations and what the process was like when we're done!
Beyond my day to day art world, I did quite a bit of travelling in January. Ian and I spent the long weekend up in Victoria, BC, with our friends Elisenda and Ryan. We spent the weekend wandering the streets looking for interesting thrift shops and good restaurants. It was awesome having no agenda and just a relaxing time in a new city, and we even hit up some of my Canadian faves (Bulk Barn for candy and Cora's for breakfast <3).
And then right away the next weekend I flew cross country to New York city to attend my best friend's wedding. This was extra special because I also got to see my friends from Canada as a little bonus, since they all attended as well. I made some GIFs for the guests to use in their instagram stories. You can find them by searching "austinandmaral" in the GIF search bar. When we weren't celebrating, we were touring Williamsburg and other New York hot spots. Highlights included the Brooklyn Sketchbook Library, which I've been wanting to check out for a few years after seeing it around instagram, and the 9/11 memorial museum. I honestly didn't expect to be as moved and interested as I was in the museum, but I would definitely recommend, and return myself, as my time was cut short needing to catch my flight home.
And to finish off, here's some more random photos I took in January.