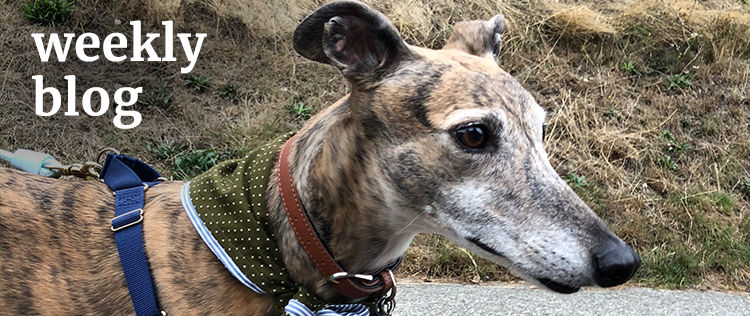 This week I wrapped up some client projects for the month, and got my hands on a SEWING MACHINE. That's the big game changer around here. My friend Elisenda is away from Seattle back home in Spain for a long term trip, not sure when she's getting back, and was able to have her in-laws bring me her sewing machine from her apartment! So exciting to have something new to learn and be creative with as the days start getting darker and colder and I need some mega distraction from all the darkness in the world these days.
The ultimate goal with this machine is to make clothes for both myself and my greyhound, Greer. I started with some baby steps, popped down to my neighbourhood fabric shop and got some cute fabrics to make a reversible bandana with. I bought enough to make myself one too so Greer and I can match.
Getting the machine started was a little touch and go; I remembered most things from the few sewing classes I took earlier this year, but felt like my stitches were coming out not quite right. After many tests and adjustments and lots of threads all over the place I decided to just go for it and it...ended up looking fine? I don't know if I was just making up problems but I ended up with an adorable bandana that is leagues ahead of the quality of the first ever bandanas I tried to make last summer with a janky little toy sewing machine.
Okay so this success emboldened me....and now I'm just diving right in and trying to make her a sweater, sort of making up a pattern from an existing sweater I bought for her last fall. I am like.....65% confident this will work? I am mentally preparing myself for failure because I've been through this before with a new medium, where what I can actually create first try is often very different from what I envisioned in my head....but that's how you learn. I bought this soft cow print fabric, with an orange cotton for the lining!
In other news, this week I finished the book Sanctuary Line by Jane Urquhart, my book club's current novel. Honestly it wasn't my favourite, I found it pretty underwhelming as a story, but the writing was good and painted a vivid picture of a childhood on a Canadian fruit farm. I'm preparing for eye surgery next Friday, so I'll be taking a break from book club until mid-October, when we're going to be reading Empire of Wild by Cherie Dimaline.
One more update, I was able to go to the pottery studio to pick up pieces that were left behind when quarantine first went into effect! I was so excited to get a few finished pieces and get a better view of what was left unfinished, what needed to fire still, and what was a total lost cause (sigh...teapot). I have some berry bowls still in the greenware stage that have held together, so hoping those can get fired early next week. Here's a few of the pieces I was able to pick up:
Those were the main goings on for me this week....how was yours?