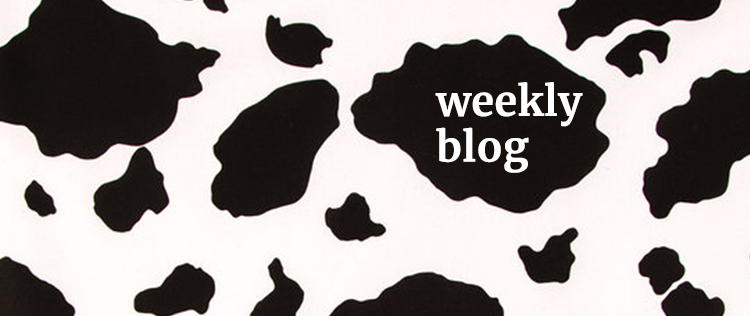 Hello! I got a new chair! And I'm very excited. I think a lot of people can relate to the all of a sudden WFH life. I was working from home before Covid really hit, but I definitely wasn't sitting at a desk for the majority of the day. I moved around a lot between the kitchen table, the couch (drawing on my ipad) and Ian's desk. Now Ian is occupying his desk, and I've taken on more work and projects where it makes the most sense for me to be at my "desk," which is actually our dining room table (which we never eat at).
My current chair was a $5 second hand office chair that slowly sinks to its lowest setting constantly throughout the day, and has very little back support. I'm replacing it this week with this chair from Laura Davidson Direct. It was pricey, but definitely a mid-range in the chair market (the most recommended "ergonomic" ones I received were like, $1500 USD...and really ugly). So we'll see how this one stands up over the next few months of quarantine!
On Monday I spent the entire day trying to sew a sweater for my dog out of this cow patterned fabric! I didn't have a pattern which was probably bold of me to assume I could handle, but instead I used one of her existing sweaters and traced the pieces to try and create my own pattern. Surprisingly, the fit issues were not as bad as I anticipated. I tried it on her (about 50 times and she was so patient <3) and had to open the sleeve holes by quite a bit to give her room to move her legs properly. But, honestly, by the time I was finished I was pretty pleased with myself! I was so focused on figuring it all out that I didn't take any pictures really, but here she is in the finished product: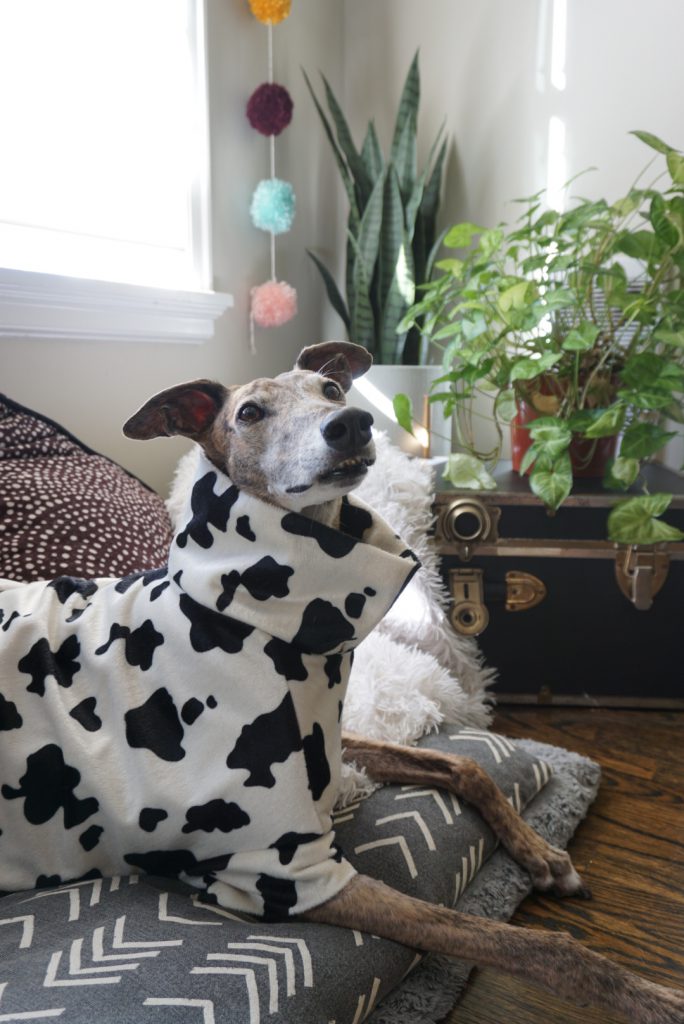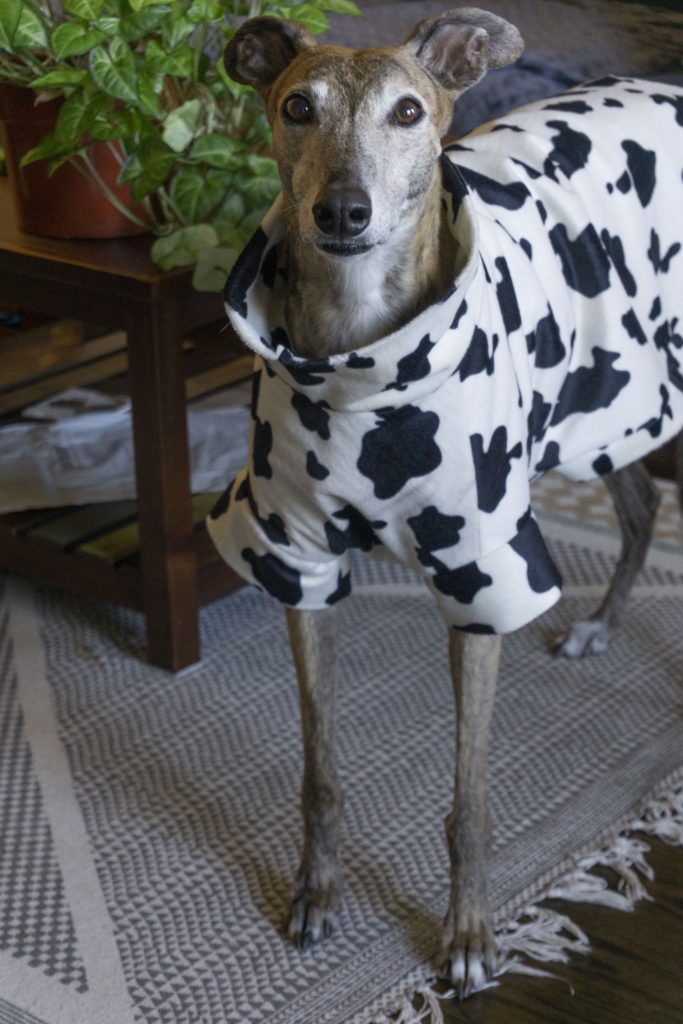 I have a bit of fabric left over and am wondering if I can make some kind of bonnet with cow ears on it to convert it to a quickie halloween costume? We'll see. Things I learned:
The fabric is slightly furry, so there is a grain to the fabric and I ended up sewing the main body piece the wrong direction, so when you pet her the fur gets rumpled and does not feel very nice.
Next time I'd also like to find a stretchier fabric that will probably be more comfortable for her to get in and out of, and be more forgiving with fit in general
It would be smart to measure my actual dog and not just a piece of clothing she owns before cutting all my pieces.
I'm also preparing for something pretty big (to me anyways)....eye surgery this Friday! I am finally, after fifteen years of horrible vision, going to be able to see without contacts or glasses. It's going to be life changing 😀 The only problem is, I have the worst aversion to needles and some other medical things, and turns out eye lasers are in that category. The actual surgery takes only three minutes per eye, and while I'll be awake, I'll have a relaxant and my eyes will be completely numbed. It's more my brain I'm worried about though...definitely it's the buildup beforehand where I have anxious thoughts.
The other downside is that since I'm getting PRK rather than Lasik, there's a longer recovery time (3-5 days), that can be quite uncomfortable (my doctor told me it feels like shampoo stinging in your eyes). So not super excited for that. But trying to be brave and tough it out, everyone I know who's had laser eye surgery has been so happy with it!
This means I'll be offline for a few days...what will I do without instagram?? But for real, if you have audio book recommendations or podcasts hit me up.